Revitalization of Grace Youth Camp: Second Phase
Revitalization of Grace Youth Camp: Second Phase
The first phase of the revitalization project was completed in January 2015. Three old buildings within Grace Youth Camp were refurbished and revitalized.
ELCHK, Grace Youth Camp is currently at the preparation stage of the second revitalization phase, which aims to refurbish two remaining buildings within the Camp.
We plan to refurbish the remaining part of the building complex (such as the former kindergarten and the relief articles storage), bringing noticeable improvement to the entire environment while at the same time incorporate more cultural elements of the iron mine/mining village into the setting. We aim to showcase to our visitors the history of our mining industry as well as some touching stories behind it, thus allowing visitors to understand more about the industrial, religious history of Ma On Shan and its mining village.
We need your support to complete the revitalization project, to extend our services further and introducing the forgotten past to more visitors!
Donation Methods:
1. Bank transfer:
Deposit/Transfer to our bank account: ELCHK, Grace Youth Camp基督教香港信義會恩青營(鞍山探索館)
The Hongkong and Shanghai Banking Corporation Limited account number 124-180928-001
*After donation, please send the deposit slip (with donar name) to us through the following means:
By mail to our Head Office or
By email to gyc@elchk.org.hk or
Whatsapp to 98584165
2. Crossed cheques
Payable to:
Chinese: 基督教香港信義會恩青營(鞍山探索館)
English: ELCHK, Grace Youth Camp
Please write down the donar name on the back of the cheque and mail to our Head Office.
Address: Room C 19/F, President Commercial Centre, 602-608 Nathan Road, Mong Kok, Kowloon
*Please mark ELCHK, Grace Youth Camp on the envelope
3. Via PPS
Please register your bill with PPS before making your donations.
Online service: www.ppshk.com Telephone service: Bill Registration 18013/Bill Payment 18033 Our merchant code: 6352
Merchant name in Chinese: 基督教香港信義會社會服務部
Merchant name in English: Evangelical Lutheran Church Social Service – Hong Kong
Planing Building
Relief Articles Storage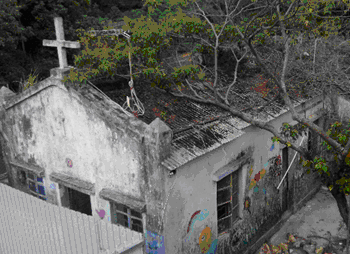 Former Kindergarten